CEO of leading Jewish org denies there's an occupation and calls Ben & Jerry's chair 'apologist for Hamas'
BY PHILIP WEISS SEPTEMBER 7, 2021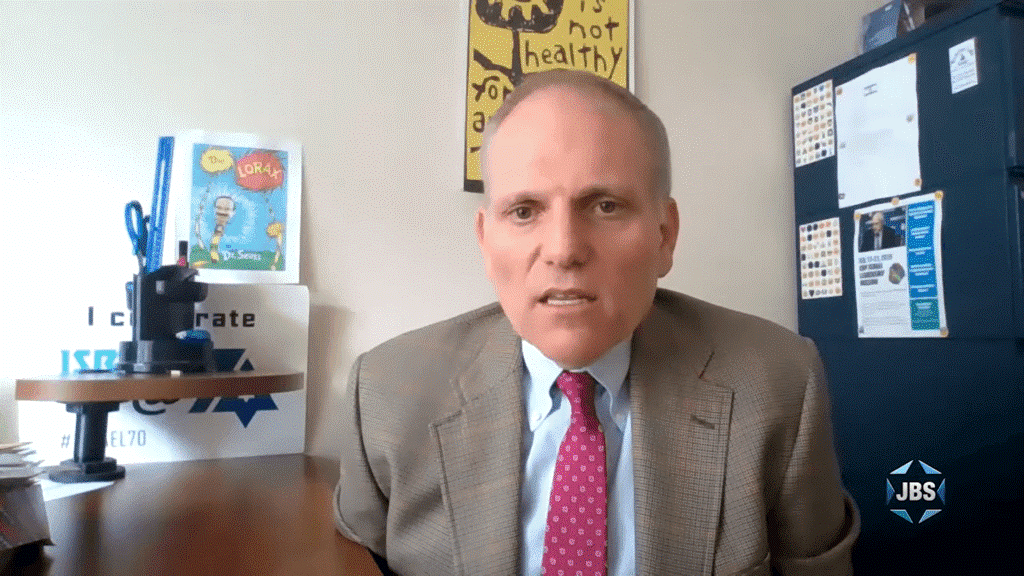 WILLIAM DAROFF, CEO OF THE CONFERENCE OF PRESIDENTS OF MAJOR AMERICAN JEWISH ORGANIZATIONS, SPEAKING TO THE JEWISH BROADCASTING SERVICE ON JULY 26, 2021.
In late July, Ben & Jerry's announced that it would stop selling ice cream in the occupied Palestinian territories next year, and since then its parent company, Unilever, has come under a pressure campaign from Israel and its American mouthpieces to reverse the decision.
The Conference of Presidents of American Jewish Organizations, which comprises dozens of groups and calls itself the "voice of organized American Jewry," has said the decision was "antisemitic" and warned Unilever that 33 states have laws aimed at penalizing the BDS campaign against Israel. The Conference said these states' pension funds can divest from Unilever if it does not override the independent Ben & Jerry's board.
William Daroff, the CEO of the Conference, goes further. He says there is no such thing as occupied territories. He says that the chair of the independent Ben & Jerry's board is an "apologist for Hamas" who has put out "venomous hatred." And he says that the "grownups" at Unilever can reverse the Ben & Jerry's decision by "just snapping their fingers."
Daroff spoke six weeks ago to the Jewish Broadcasting Service, but no media have quoted him; and he is such a powerful figure in the Jewish community that his remarks deserve notice.
Daroff described Palestine as "disputed" territory and "territory Israel controls". But he denied that there is an occupation, and said corporate "grownups" would agree with him.
"The terminology that Unilever used, that Ben & Jerry's used– 'occupied Palestinian territory' … it's a term of art that has no meaning. We don't really know what that means. Is Ramallah occupied Palestinian territory? Is East Jerusalem occupied Palestinian territory in their view? Is the Holy Basin, the Kotel, the western wall occupied Palestinian territory? I think it really speaks to the fact that the grownups here in the corporate boardroom were not engaged in the decision making and the discussions, and so that's who we are seeking right now to get the attention of. To show them that this clearly was not well thought out. They can easily rescind these decisions.
Daroff went on to suggest a boycott of Unilever products and to say that Unilever is yielding to "radical extremists" who are putting out venomous hate.
According to the terms of their purchase agreement of Ben & Jerry's of 20 years ago… [Unilever is] required to follow the recommendations of this social justice board [the Ben & Jerry's board]. If they don't follow those recommendations, all they have to do is pay a higher licensing fee to Ben & Jerry's– to pay 3 percent more. So this is an issue that Unilever can figure out however they want to do. But their hands really are not tied. The contract talks for a way to get out of this. You can pay the 3 percent licensing fee, you can rescind the decision, you can take over the company you bought and not allow it to be taken over by the extremists like the ones who are pushing forth the venomous hate…. that we've seen in the newspapers from the chairman of the Ben & Jerry's social responsibility board who really seems like she's an apologist for Hamas. Unilever can do the right thing very easily. Many of us have Unilever products in our homes as we speak. They're the largest manufacturers of soap in the world..
The chair of the Ben & Jerry's board is Anuradha Mittal, a Bay Area human rights activist who founded the Oakland Institute, which advocates for indigenous people's land rights in the face of global trade deals and corporate exploitation. Mittal has been targeted with a smear campaign since the decision. She and the Ben & Jerry's board have received death threats and have been called antisemites and Jew-haters, she said in August at this Americans for Peace Now forum. "None of that is surprising. We expected that," Mittal said, adding that she has faced a "misogynist, racist" intimidation and smear campaign fueled by lies.
Daroff's statement about Mittal being an apologist for Hamas is just that. The decision to stop selling Ben & Jerry's was years in the making, she told Americans for Peace Now, and was based on numerous visits by board members to Israel and Palestine. Among the human rights violations Mittal says she witnessed or documented were: the destruction of 1 million productive trees in occupied Palestinian territories; the destruction of Palestinian children's dreams due to the conditions of refugee camps and militarized checkpoints; the routine humiliation of Palestinians in central Hebron; and the fact that trucks carrying Ben & Jerry's ice cream could move easily on roads that Palestinians are barred from traveling on.
"To see the inhumanity of it… that is not sustainable," Mittal said. "It is not good for peace. It is not good for Israelis. It is not good for Palestinians."
The Ben & Jerry's decision to withdraw from the occupied territories, which has been backed by Ben & Jerry's founder Ben Cohen, became inevitable after the progressive company endorsed the Black Lives Matter protests in 2020 and after demonstrations at its Vermont store during the Israeli assault on Gaza in 2021. The Unilever corporation reportedly overrode the Ben & Jerry's board first by delaying the decision to leave the occupied territories, then in declaring that the ice cream will continue to be sold in Israel. There is obvious strain between Unilever and Ben & Jerry's over the occupied territories.
Unilever's CEO wrote to Jewish groups in July saying that Ben & Jerry's has independence, but distancing Unilever from the decision and assuring the Jewish groups that Unilever opposes the BDS campaign.
In late July, Mittal was quoted pushing back against Unilever. "[T]his is what happens when you have a board with all women and people of color who have been pushing to do the right thing," she told NBC in July.
Daroff is counting on Unilever executives to crush the Ben & Jerry's decision, which will not take effect until its contract with an Israeli company, which sells ice cream inside the occupation, ends in 2022.
"I really believe that once the Unilever execs see that this is a direction that is a deadend for them, this mini controversy will be over, at least that is my hope and my desire," Daroff told the Jewish Broadcasting Service.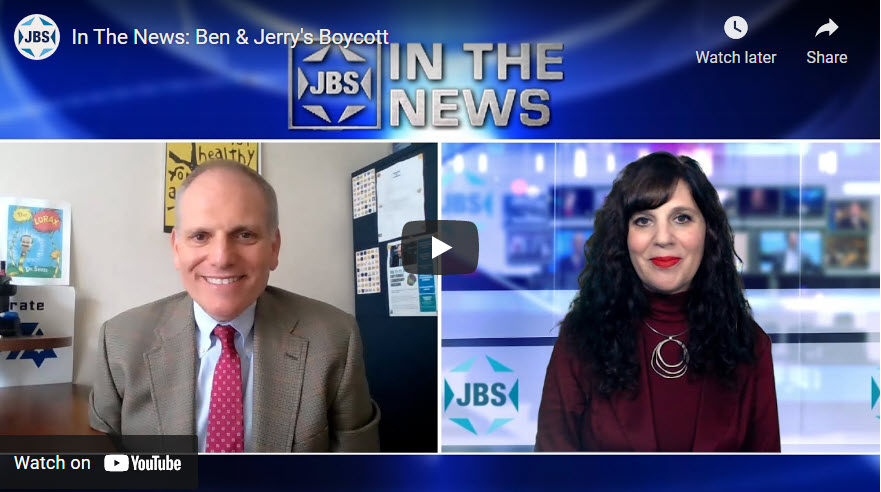 "At the end of the day Ben and Jerry's is a wholly-owned subsidiary of Unilever," Daroff went on. "This is something that Unilever can reel in and make go away and I'm sure We'd love to have Cherry Garcia again and enjoy their ice cream, which they could do by just snapping their fingers." He said that paying a 3 percent addition in licensing "may be a lot of money… but it would free Unilever being held hostage by these radical extremists."
Daroff's parroting of the rightwing Israeli government positions is a reminder of the fact that the organized American Jewish community has stood by the Israeli occupation for more than half a century and stifled opposition to the occupation inside mainstream American politics.
The Ben & Jerry's decision has been embraced by some dissident Jewish groups, including Jewish Voice for Peace, IfNotNow, and Americans for Peace Now (which is actually a member of the Conference of Presidents organization!). The liberal Zionist group J Street has neither endorsed nor rejected the Ben & Jerry's decision but upheld its right to protest the occupation. J Street has condemned other Jewish orgs for their "meltdown" over the Ben & Jerry's decision and for calling the decision "antisemitic."
P.S. Israeli leaders have been outraged by the Ben & Jerry's decision. The new Israeli ambassador to Washington has appealed to U.S. governors and legislators to take action against Ben & Jerry's. "A foreign government appealing to [U.S.] governors to punish Americans for exercising their rights seems kinda messed up, no?" Chris Hayes wrote. Not that he's been very outspoken about Israeli apartheid.
(60)