As seen on (Jewish) TV
Rabbi Mark Golub and his Fort Lee-based Jewish Broadcasting Service
By Joanne Palmer June 8, 2018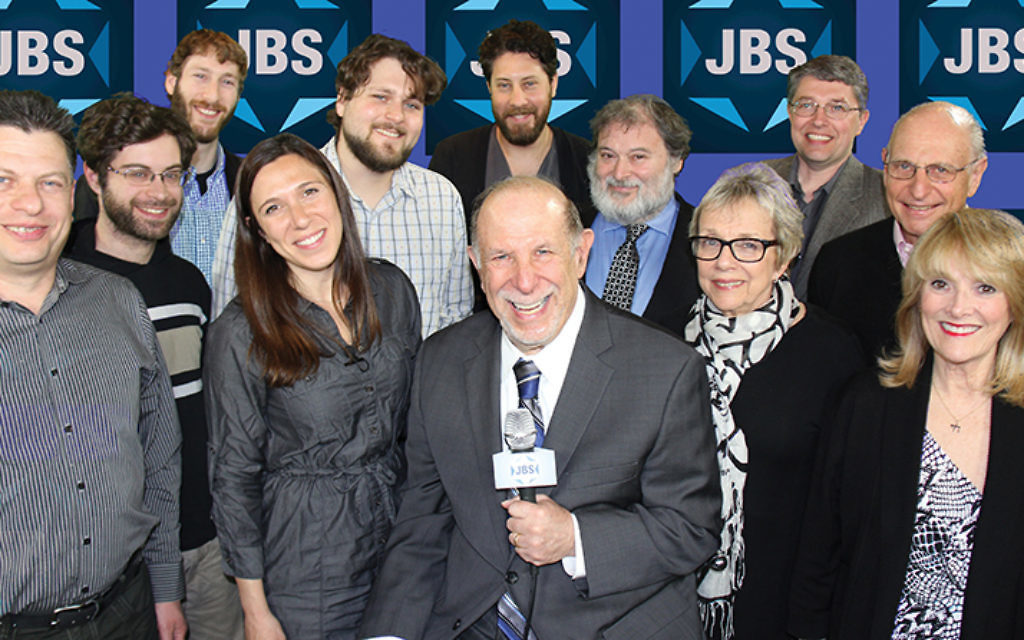 Rabbi Mark Golub, center, is surrounded by Jewish Broadcasting Service staff members.
Israelis live in a Jewish culture. Even secular Israelis arrange their year by Jewish holidays, and their weeks by Shabbat.
In the United States, we do not live in a Jewish culture, even though if you live in the tristate area you might feel surrounded by Jews. All our mass media assume a sort of bland default Christianity. And the more mass the media, the more true that assumption. You can find Jewish podcasts to download in the exact same place on your phone where you find every other podcast, for example, but if you turn on broadcast television, you're pretty much back to the Christian default.
But there is one station that is all Jewish all the time. Perhaps unsurprisingly, it is called JBS — the Jewish Broadcasting Service.
And its headquarters is in Fort Lee.
The channel is the brainchild (or perhaps heartchild, given the emotion and passion that is poured into it) of Rabbi Mark Golub.
JBS takes a wide-ranging view of Jewish life, and that makes sense, given Rabbi Golub's background. "I have a unique perspective among American rabbis," he said. Unique in its range, he meant; it would be fair to say that he had a foot in all the major Jewish religious streams but he is not a quadruped. And perhaps unique in the way that multi-stream, four-footed background has nurtured his dream of making Jewish education available to everyone.
Rabbi Golub's maternal grandfather "got smicha" — ordination — "from the famed Slobodka Yeshiva," in Lithuania. "He came to the United States in the 1920s to be a rabbi in Norfolk, Connecticut, but after spending one day as rabbi there he realized that American Jews had no idea of how to treat rabbis," Rabbi Golub said. "So he left."
But his grandfather, Benjamin Newman, "remained a committed Orthodox Jew," Rabbi Golub continued. "He became a painter" — of walls, not of fine art — "and then he moved to the Midwest — to Union City, Ohio — and became a peddler. And then one lucky day he found a shiny piece of steel, and it turned out to be valuable. So instead of being a peddler, he went into steel." He flourished. He brought his wife, Frieda, and their children to America.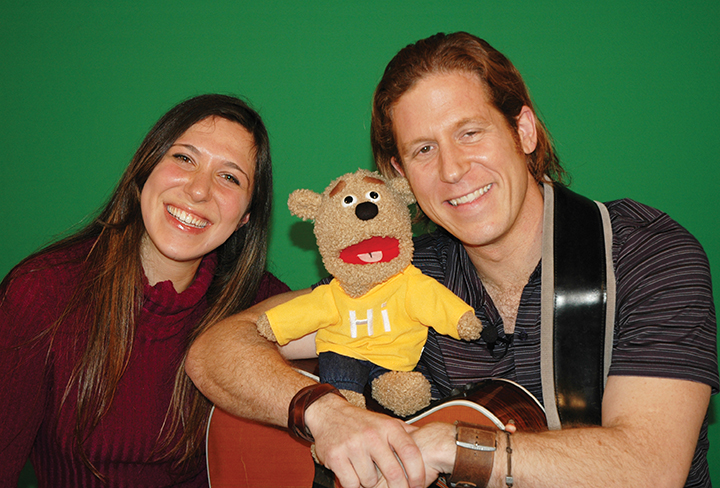 Fella the puppet is with JBS associate producer Darah Golub, and musician Rick Recht.
The family — the oldest child, Rebecca, became Rabbi Golub's mother — moved to the Bronx, and then to Manhattan's Upper West Side. They belonged to the Carlebach Shul, as it was not yet called. "I was brought up going to shul there, on 79th Street," he said. "I remember my grandfather sitting on one side of the mechitza, and whenever he wanted to talk to my grandmother, he'd pick up the curtain and talk to Frieda, who was sitting right on the other side.
"The way I grew up, it was all about yes, and never about no.
"One of the things that really affected me was seeing my grandfather and grandmother horsing around, which you usually didn't see," he added. "They were probably in their 60s then. They loved each other very much."
Rabbi Golub's paternal father, Jacob S. Golub, "was a friend and colleague of Mordechai Kaplan," who began as Orthodox, taught at the Conservative Jewish Theological Seminary, and founded the Reconstruction movement. Once his parents, Leo Golub and Rebecca Newman, married, the couple joined the first Reconstructionist synagogue, the Society for the Advancement of Judaism, just a few blocks away from the Carlebach Shul, where his mother was the secretary for Ira Eisenstein, Kaplan's son-in-law and the SAJ's rabbi. "The theology of Mordecai Kaplan is profoundly in me," Rabbi Golub said. "He was the most influential rabbi of the 20th century. Heschel" — that's Abraham Joshua Heschel, the mid-century Conservative teacher and theologian — "and Soloveitchik" — as in Joseph Ber Soloveitchik, the mid-century Orthodox teacher and theologian — were brilliant, but none of them shaped Jewish life today the way Kaplan did."
Mark Golub was born in 1949; given his parents' backgrounds, "I grew up with Orthodoxy on one side, and Reconstructionism on the other. And when my parents married, they created a Conservative household. I was raised in a mainstream Conservative synagogue. That's because the family moved to Trumbull, Connecticut, and joined Congregation Rodeph Sholom in Bridgeport."
Therefore, guided by an internal logic and in search of as much experience as possible, once he graduated from college — Columbia — "and I decided to go to rabbinical school, I chose HUC," Rabbi Golub said. That's Hebrew Union College — Jewish Institute of Religion, the Reform movement's seminary. "That's because I did not consider myself to be a shomer mitzvot Jew, and JTS required it," he said. "I wanted to be on the most observant side of the Reform movement.
"So now, I have all four of those kinds of Judaism profoundly inside me," he continued. "I came to the understanding that none of them is absolute truth. Each one has its strengths and weaknesses. And we are all part of klal Israel." He does not like labels. He's a member of the Central Conference of Reform Rabbis, the Reform movement organization, but "I don't consider myself a typical Reform rabbi" he said. Instead, "Literally 'rabbi' means teacher. I am a teacher.'"
Should he have to label himself, "I call myself ohav Israel," he said. A lover of Israel.
This is an issue that means a great deal to Rabbi Golub. "Rabbis are not holier or better than anyone else," he said. "Rabbis take themselves too seriously. The point is to take Judaism seriously. To take Torah seriously. But not to take yourself seriously. I doubt, like any other sensitive Jew doubts, and any Jew who says they don't doubt I don't take seriously. Jewish tradition is all about searching.
"There are moments when I am sure –but only moments. Most of the time there is doubt.
"The trick is not whether you believe in God, but whether you act as if you believe in God. Ke'elu — as if.
All this is relevant because it is reflected in the JBS's programming; when he says that he spans the range of Jewish thought, Rabbi Golub knows what he is talking about and means what he says.
Rabbi Golub was ordained in 1971. "There was very little adult education then outside the Orthodox movement," he said. "But there was a group of educated Jews in Stamford" — whose education had been purely secular but whose curiosity about their own tradition was strong — "who wanted to learn more. There were young parents in their 30s who said, 'We don't want a rabbi just to teach our children. We want a rabbi to teach us.'
"And that is every rabbi's dream. Most synagogues outside the Orthodox movement were established for religious school parents, who are members to get their kids bar mitzvaed — as if bar mitzvah were a transitive verb — and as soon as it is over they are out the door.
"Parents literally would drive their kids up to the synagogue's front door, the kids would go in for Hebrew school for two hours, and the parents would spend as little time as possible inside. But they paid their dues, and that paid the bills."
Instead, Rabbi Golub set up a model where the parents necessarily were as involved as their children; every other Sunday night, he would teach parents of Hebrew school kids. They'd meet in someone's house and "I would do midrash or Jewish thought with them," he said.
Like many people, Rabbi Golub loved more than one thing. Next to his passion for Jewish life and Jewish education, in a sort of parallel track, ran his love for radio. "And I was just lucky," he said.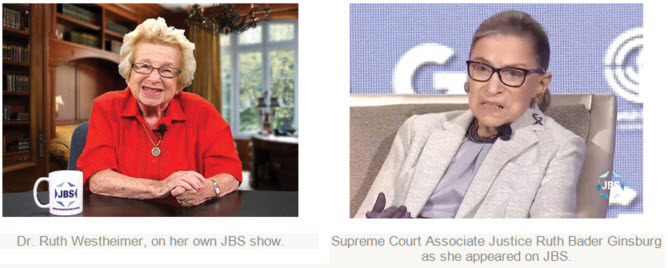 He knew R. Peter Straus, the socially connected, socially conscious New Yorker — or "a big liberal Jew," as Rabbi Golub put it — who took over the radio station WMCA, changed it from all music — it played early Top 40 rock 'n' roll — to become the country's first talk radio station. "Straus called me into his office just as I was being ordained, and said, 'I know you love radio. Do you want to be the editorial director and director of public affairs for WMCA?'"
It was a no-brainer. Yes, Rabbi Golub said. So he had two strands to his life — "the chavurah in Stamford formally hired me. It's a unique entity — adults studying every other Sunday night, coming with folding chairs and a chumash." He also was the assistant editor of the Reform movement's journal of ideas, Shma. At the same time, "I was WMCA's editorial director, writing all its editorials. (The station was unusual in that it aired editorials; it was liberal in its orientation.) "And I ended up as a substitute host often, sitting in for Barry Gray and Barry Farber.
"I was having the time of my life," he said.
In 1979, "Peter Straus was tapped by Jimmy Carter to head the Voice of America," Rabbi Golub said. "Before he left WMCA to do that, I made a deal with him. I would stay for another year, and he would let me stay in my office and let me create a Jewish radio program called 'L'Chayim.' It premiered in February 1979, on Sunday, and to this day it has never missed a week.
"I still do it now. It airs on JBS now seven days a week." How does that work? "There are a lot of repeats," he acknowledged. And now, like all of Rabbi Golub's work, it's television rather than radio.
What is L'Chayim? "To me, it's like a Jewish Charlie Rose show," he said. (Charlie Rose without the #MeToo taint, it is necessary to add.) "I get to sit with the most brilliant, articulate men and women, who are shaping Jewish life. My first programs in 1979 were with Isaac Bashevis Singer and Elie Wiesel."
In 1990, when masses of Jews left the Soviet Union, one of them, a man named Michael Pravin, made his way to Connecticut; the chavurah sponsored him. "He came to America not knowing a word of English, but he was determined to be a success here. He wanted to learn English, so he sat with Ruth at our dining room table every day. He began with children's books."
Ruth is his wife, Ruth Ellen Gelman Golub; "Everything that is good has happened to me because of my Ruth," Rabbi Golub said.
"I didn't like Michael at all. I would walk by him and say hi, and he would not say a word. But one day he knocked on my study door and said that he'd like me to help him with an idea. I was his rabbi.
"The idea was stupid, and the next two ideas were stupid. But the fourth idea was not stupid at all. He said, 'I see you do television. Do you want to do television for Russian Jews?'
"I did due diligence. There was a large Russian Jewish community, and it wasn't all in Brighton Beach. And I saw that there was Asian and Haitian and Spanish television, but not Russian."
That's how the Russian Television Network, which was headquartered in Fort Lee, began. "I could not speak a word of Russian, but he brought me two people who could, and who could speak English." He hired those two — Alex Gordon and Galina Todd — "on the spot, and they were our two anchors."
RTN began in 1993, on cable. "It changed everything in my life," Rabbi Golub said. "I had no clue how important this would be." The station was not Jewish, although "95 percent of the audience was, and they loved that a rabbi was its president. I taught English and Judaism on RTN, but other than that it was a secular channel."
It was a cable channel; people had to subscribe to it.
Rabbi Golub's business partner in this venture was his brother, David Golub, who is a "wildly successful attorney in Stanford," Rabbi Golub said. "We lost money every month at the beginning of the enterprise. Every month David would put in more money.
"After about a year, one month he didn't lose money. We broke even. And from that moment on we never lost money again. We grew and grew and became a force in the Russian American community. All of a sudden my name was known in Russia.
"It was flabbergasting.
"And I began to make money, for the first time in my life."
After that, the station continued to flourish; the Golub brothers sold it, and then bought it back again. Everything was fine — and in fact it was during that time that Rabbi Golub hired Janet Weiss of Mahwah, who, he said, "is a fantastic person," and who seems to be at the station's heart. "We built the staff," he said. "We are a wonderful and lovely family."
And then, once again, everything changed. "The internet caught up with us," Rabbi Golub said. "It caught up with everyone. All of a sudden, people could go online, or get channels for free, or for much less money.
"And so we started losing money, and then we went downhill, and we couldn't stop it."
What next?
"All I did was answer the phone," Rabbi Golub said. "The phone rang, and I answered it," as he had when Peter Straus first offered him a job at WMCA. "A guy named Brad Hammer calls me. There was a door there, and I opened it.
"Brad and his partner, David Brugnone, wanted to create a Jewish channel — the first one — but couldn't do it alone," Rabbi Golub continued. "They asked me to partner with them.
"At the time, all of Jewish television was in one of two forms. You either bought time on a cable system or you got public access time, which was free. In either case, it was of very low quality and only for niche audiences.
"But David Brugnone got a cable system to say that it would offer a Jewish channel to its viewers. So we created Shalom TV in 2004, and in 2005 it premiered on Comcast's video on demand channel.
"But video on demand is problematic. You can't do live programming. You can't do news. You don't have a channel number. And a lot of people — the majority of Jews — never knew it existed. So I decided to move from video on demand to live television.
"From the day I started L'Chayim in 1979, I had a dream that I would establish the first Jewish channel in America, but I gave that dream up," Rabbi Golub said. "It was too expensive. And then Brad Hammer came and he changed the way I looked at it. And I said yes, let's go for it."
The Jewish Broadcast Network began small. "And then we had a big break," Rabbi Golub said. "Cablevision called me and said they would launch Channel 138." He changed the name from Shalom TV to JBS, "on the public broadcasting model.
"And JBS has slowly made progress. We are now in more than 40 million homes."
He's hoping to get in more homes, be picked up by more networks, and he thinks that there is a good chance that will happen, although now he waxes mysterious about the whole thing. But "as important as the whole country is, the greater New York area still is the center of American Jewish life," he said. And the station always is available online, at jbstv.org.
The channel's programming is mainly in English, although it often plays movies, which tend to be in Hebrew, with subtitles; nothing in Hebrew is not subtitled.
What's the channel like? "Imagine PBS if it were Jewish-themed," Rabbi Golub said. "Then you'd have the idea. Every day, we have English-language news from Israel. It tends to be center-right, because that's where the Israeli people tend to be. We don't produce it; we get it from Israel.
"Our own programming is very centrist, and very pro-Israel. We celebrated Israel's 70th birthday with a four-hour live telecast. As an example of our range, on that program we had Rick Jacobs" — the rabbi who heads the Reform movement — "Jeremy Ben-Ami" — the head of the left-wing American organization J Street — "Morton Klein" — the head of the right-wing Organization of America — "Abe Foxman" — the former head of the Anti-Defamation League — "Jerry Silverman" — soon-to-be-former head of the Jewish Federations of North America — "Brooke Goldstein" — the journalist who headlines public radio's "On the Media" — "Israel consul general Dani Dayan, Ruth Wisse" of Harvard, the writer "Francine Klagsbrun, Alan Solow," the former president of the Conference of Major American Jewish Organizations. "It's the entire spectrum of the Jewish community. It's a huge range — but it's all pro-Israel.
"JBS isn't religious, but it is inclusive and eclectic," Rabbi Golub continued. "We produce a weekly Talmud series with the fabulous Orthodox Rabbi Mordechai Becker. That's produced in this studio right here, in Fort Lee. And also we have shows from a non-Orthodox perspective."
The channel produces five or six hours of new material a day, he said; the rest is reruns or from other places; it includes such shows as broadcasts from lectures at the 92nd Street Y. "We give people front-row seats at some of the most wonderful talks." Another program, "From the Aleph Bet," teaches beginning Hebrew, so "people who never were comfortable picking up a siddur now can read the prayer book," Rabbi Golub said. "It's the single most successful program we have.
"We are the only channel in American television with Jewish studies and Jewish children's programming," he continued. "And we are the only channel to show services live. We show services from Central Synagogue in Manhattan. JBS gives elderly homebound Jews a connection back into Jewish life.
"We have created a sense of Jewish community for Jews who don't have access to it in any other way," he said. "It's community for Jews who live on the periphery. Who live in Nashville, or in Austin, or in Napa Valley.
"We touch both the periphery and the base," Rabbi Golub concluded. He quoted Rabbi Avi Weiss, who recently retired from the Orthodox Hebrew Academy of Riverdale in the Bronx and is the founder of Yeshivat Chovevei Torah and Yeshivat Maharat. "He said that there are two kinds of rabbis. One dances inside the circle, and one brings people from outside the circle to dance inside it. We do both."
(36)