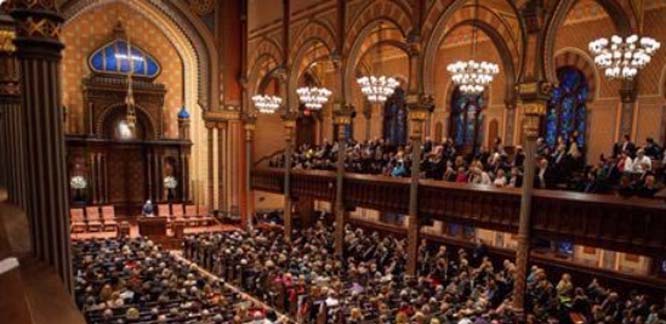 Every Rosh Hashanah and Yom Kippur there are those who are unable to attend a synagogue service in person.
Some are ill and are unable to travel. Some, due to age, are homebound. And some who live outside of urban centers have no easy access to a synagogue.
Thanks to the Jewish Broadcasting Service (JBS), there is now a way for every Jew to be able to participate in the High Holidays.
Once again, JBS will be televising High Holiday Services LIVE from Central Synagogue in New York City. In addition, JBS will repeat those services at later times for those who live in different time zones.
See below for more information on how to access JBS.
How to access JBS:
AT&T DirecTV – Channel 388
Spectrum (Channel 219 and other channels in some areas)
Verizon Fios – Channel 798
Optimum – Channel 138
RCN – Channel 269
Atlantic Broadband – Channel 168
[other minor systems]
Roku ("Religion")
Online: jbstv.org
High Holidays 2018 schedule on JBS
Erev Rosh Hashanah- Sunday, SEP 9, 6PM
Kol Nidre 1- Tuesday, SEP 18, 6PM
Erev Sukkot- Sunday, SEP 23, 6PM
Erev Simchat Torah- Sunday, SEP 30, 6PM