In an effort to beat back isolation and stitch together a makeshift kind of religious life as the coronavirus outbreak deepened this week, Jews across the country turned to the internet. Untethered from their shuttered synagogues, they were hoping to find a sense of community, however elusive it may be.
"I think this moment calls for sober, aggressive and courageous steps to address the public health crisis we are facing," Rabbi Elliot Cosgrove, spiritual leader of the Park Avenue Synagogue, told The Jewish Week. (The White House directed that Americans avoid groups of more than 10 in an effort to stop the spread of the coronavirus pandemic.) "At the same time, I think that creating community the best way we can in a time of social distancing reminds us of our shared and fragile humanity."
Central Synagogue, a Reform congregation in Manhattan, has been airing their Friday evening Services and High Holiday services live on the Jewish Broadcasting Service (JBS), since 2014 for those unable to attend a service in person or are homebound.

JBS, for nearly a year has also been offering prerecorded Friday evening services from the Hampton Synagogue in Westhampton Beach, a Modern Orthodox congregation. With Jews largely confined to their homes now, JBS will shortly begin airing prerecorded Saturday morning services from the Hampton Synagogue.
Rabbi Marc Schneier, the congregation's spiritual leader, said that next week Cantor Netanel Hershtik and the synagogue's seven-member professional choir will record the service (there will be no Torah or Haftorah readings).
"JBS has asked us to record a Shabbat service of 90-minutes or so, and JBS will make the determination how to use all of the material we record," he said. "We will also be recording a service for Passover and for Havdalah. The technical crew will put it all together."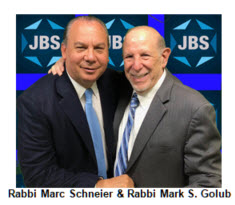 "This past weekend over 200,000 viewers watched our Kabbalat [Shabbat] service," Rabbi Schneier said. "This is a unique opportunity for the Hampton community and the Jewish people worldwide."
(0)